Is It Paleo?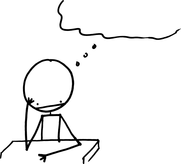 Three evenings ago, on my way home, I witnessed a poor fellow fall up a flight of stairs and break all the bones that once bore the resemblance of a face. Upon impact he scattered his faculties, impairing the cerebral processes that under ordinary circumstances would have enabled him to regain his footing; as a substitute he tumbled limply down the flight, head first then heels, like a slinky, thwacking his skull and skinning his shins at regular intervals.

When he reached the bottom—which took considerably longer than expected, as pieces of his skin kept snagging and tearing loose on the jagged edges, so slowing his descent—his body was reduced to a mash, chewed up like a Milk Dud.

He lay at the bottom nothing more than a collection of compound fracture upon compound fracture. And he had on his body countless lacerations, all gently spurting up blood like a run of musical fountains. I took this as evidence that he was still alive, but would probably soon not be.

I approached wearily. As I neared, his eyelids lifted and then he spoke.

"Oh good god, what happened?"

"Well sir, it seems like you've taken a tumble down that flight of stairs there."

"Oh my. Did I fall from the first or second?"

"From the thirteenth, sir. The very top."

"Oh goodness. What happened, precisely?

"Well, it appears you smacked your head, sir. Quite hard too."

"Goodness, me. That certainly explains this head ache,then. Is that all?"

"Well no, sir. Your skull must have a naturally buoyancy to it, as you bounced and smacked your head on the eleventh as well… Then again on the ninth, seventh, fifth, and third."

"And the first?"

"'peared to have skipped that one."

"Well this is considerably frightening. Am I in bad shape, do you think?"

"Quite possibly the worst, sir."

"So this is it for me then, huh?"

"'fraid so."

"What's this here in my mouth?"

"Looks like dirt."

"Is it Paleo?"

"Yes."

"Good."

Is White Rice Paleo?
Technically no, it's not. But here's the thing: As far as grains go, white rice is pretty neutral. And while most fruits and veggies have superior nutritional endowments, white rice—since it breaks down into pure glucose (effectively zero fructose)—may be a worthwhile addition to the avid exercises as a post workout carb source.

Got questions about white rice, or any other grains for that matter? Ask away in the comment section.

Kettlebell Workout of the Week:
Episode 77 - Double Trouble
As many rounds of the following in fifteen minutes:
5 Double Snatch + 5 Front Squat
Recommended Operating Weight:
2 x 20kg for men
2 x 12kg for the ladies
The Chronicles of Strength Inner Circle
Here's what I got lined up for this month's
Inner Circle
members.
The Inner Circle Newsletter (March):
My unabashed thoughts on Crossfit
The Truth About Cross Training
How to Make a Strength and Conditioning Program that Doesn't Suck
My Thoughts on The Science of Exercise
The Vital Few: My Selection of the Choicest Exercises for Full Body Strength and Power


Inner Circle Webinars (March):
A Day In The LIfe of Pat Flynn. Oh Joy! Discover everything I do on a day to day basis to maintain my levels of health, strength and leanness. From what I eat for breakfast (if I do even eat breakfast...), to my daily training, to my daily mobility routines, and even my pre-sleep rituals. I'm laying it all out for you!
Webinar Request Night! That's right, you pick the topic, I give the presentation.
More to Be Announced.

Inner Circle Coaching Call In Days
15 Minute Speed Coaching Calls. Bring It!

Time Crunched Workouts of the Month:
The "Filthy Flynn Fifty". 8 of my favorite movements. 50 reps of each. No mercy.
The "Jagged Edge". A crash course on uneven double kettlebell complex training.


Paleo Recipes of the Month:
Paleo Jumbalya
Meatballs and "Pasta"
Want all this and more?
Then CLICK HERE to join the Inner Circle
. No obligation. Cancel anytime.