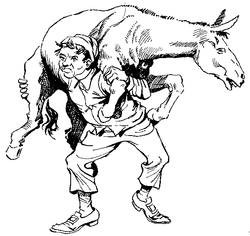 Carry [KAR-EE], verb

1. To take or support from one place to another.

It wasn't so much the weight, but rather the irradiating heat from the skillet of black pavement and the sizzling fried egg in the vacant sky that labored me into submission.

I dropped the burden that choked my breath; two 53lb kettlebells crashed into the asphalt like a pair of meteorites.

"Shit."

So much for mister tough guy.

"I'll get you yet."

My first experience pretty much sums up everyone's first experience with heavy loaded carries:

Suck.

Let us now take a minute to pity the tenderfoot who has yet to suffer the wraths of loaded carries demanded by the iron gods of all those seeking physical and athletic excellence.

If this person is you, then today I will take you by the hand greenhorn, ensure that you pay to the iron gods that which you owe, and see to it that you are practiced in the art of holding and carrying about heavy substance.

And what a glorious art that it is!

After all, is art not simply the conscious use of skill and creative imagination?

If we agree that it is, then we can take just about anything, and turn it into a wonderful expression of one's imagination.

But don't get ahead of yourself just yet; one must first finely tune their skills, before they start getting crafty.

Otherwise you will push yourself off the edge of folly, and in this case, wind up physically broken.

Picasso spent the first 15 years of his artistic life perfecting the art of flawless reflection and draftsmanship, before he delved into abstract expressionism.

You must do the same. Walk before ye run young Padawan. Or in this case, hold and establish position and poise before ye carry.

One must first understand the rules, before one goes about intelligently breaking them.

Do I make myself clear?

Good.

Then let's get started.



Loaded carries kick ass in both the literal and metaphorical sense for the following five reasons
(note: this is by no means an all-inclusive list of benefits):

1. Huge Metabolic Effect. Load yourself up with a ton of weight, perhaps start with two heavy bells in the rack position, go walk the length of a football field, and then tell me how you feel.


2. Profound Strength Carryover. It's all about time spent under tension baby, and you'll be hard pressed to find any other mechanism which allows for such prolonged periods of desired stress. Your nervous system will thank you later.


3. POSTURE UP! Attempting to support and transport weight with improper posture and poor bony alignment is sort of like Pat Flynn trying to eat with chopsticks. While the job may eventually get done, it takes forever, looks sloppy, and somebody usually ends up physically wounded. Loaded carries reward proper posture, and punish mechanical untidiness.


4. Develop a Withholding Death Grip. Boil down the often ambiguous notion of "grip strength" and find the most elementary fundamentals to be the ability to pinch, crush, and withhold. The latter of which is trained extensively and effectively with heavy, prolonged carries.


5. Ignites an Idle Core. Carries demands one to express the true resilience of their core through the resistance of extension, flexion, and rotation of the spine. Brace your abs, squeeze your butt, or use any other sort of "feed-forward" approach that you need to pull yourself into a better position. If you don't NEED to do it. Then don't.

Like a pig in shit, if we're ever going to have some fun, then we need to get right down in it.


While there is marginal benefit to be had, you need not strap yourself up to a car, balance an elephant on your head, or put on any other sort of circus act to reap the major benefits of holding and walking weight around.

In the words of Kelly Johnson, K.I.S.S. (Keep it simple, stupid)

It comes down to the simplest of elementary truths:

If you wish to get stronger at loaded carries then you must hold heavy weight (in various positions), and move it from point A to point B. And for obvious reasons, hopefully back to point A.

While common sense tends to be more of an oxymoron than anything else nowadays, I'm asking you to use whatever's left of it, as I wish not to give you a definite prescription for how much weight you should hold or the amount of distance you must transport it for. That would assert that I personally know you, your level of competency, and the best course of action FOR YOU.

Unfortunately, I do not personally know you.

Fortunately however, I don't have to. All you need is to understand the aforementioned truth and self-program accordingly.

Don't over complicate it. Pick stuff up, make it heavy some of the time, and move it around. If you truly need to know more, then please ask away in the comment section of this post!

The following are some of my personal favorite loaded carry variations. First own the fundamentals, then start the innovation process.

(note: again, this by no means an all-inclusive list… eh…)

(also note: some of these videos are demoing simply the hold portion. If you can hold it, chances are you can and eventually SHOULD walk with it.)


Bottoms Up Kettlebell Carry

The Single Arm Medley

The Man-Maker Medley

The Quadruple Kettlebell Farmers Carry

The Waiter/Farmer Combo

The... Amalgamation?

The Unrelated Ass-Kicker

Enjoy!
You'll thank me later.
- Pat Flynn
Chief Awesomeness Operator
ChroniclesOfStrength.com
PS - If you enjoyed this post, please "Like" and share it with your friends!
PPS - Join the ranks! Check out our SuperHero Development Program.
PPPS - Buy Fitter, Happier, More Productive. If you don't absolutely love it, I'll give you every penny back, no questions asked.
PPPPS - Please share some of your favorite loaded carry variations in the comment section and drop any questions you may have in there.
PPPPPS - Have you bought Fitter, Happier, More Productive yet? Please don't make me write another PS...